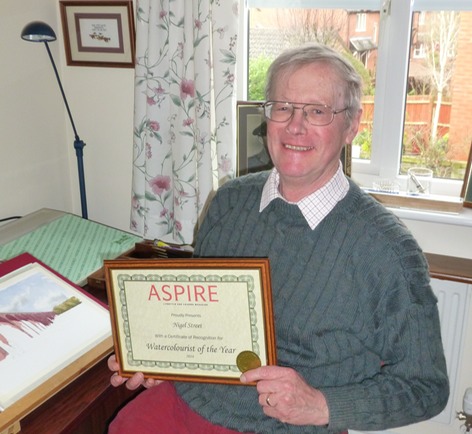 More about Nigel Street
Nigel started drawing as a relatively junior officer in a training organisation, as he needed to produce some essential visual training aids - for some potentially dangerous equipment - that should have been provided officially! He soon progressed to pen and ink and then pen line and wash. Many years ago he was attracted to watercolours, and started, as so many do, by buying a DIY book, in his case, Alwyn Crawshaw's " Learning to paint in watercolour". By buying the recommended equipment and by following the exercises, he achieved pleasing initial progress, until work intervened. After a lengthy gap due to his busy lifestyle, he returned to watercolour, but rapidly hit a plateau in his progress. So, he developed his skills by learning more formally about the landscape, sky and trees over several sessions in the Lake District with Keith Fenwick, and followed this up by studying the medium and subjects in more detail with the late, renowned Bob Kilvert. Having attended a number of the Weobley Courses as a student, he was invited to join the teaching staff, and became a regular tutor for several years. He ran two of Bob's week-long courses ("The Sketchbook Week" and "The Castles Week") each year until Bob's retirement, taking leave to do so.  These courses concentrated on teaching students how to approach landscape subjects such as buildings, trees, recession, water, and castles, demonstrating suitable techniques in the studio, which were then followed by practical tutored lessons on location. So he understands all the stages of learning, and has structured the approach to be suitable for all. He is also fully qualified to teach at the Further and Adult Education level. 
Upon his retirement he decided, in amongst other things, that it was important to spread this highy effective approach to teaching Watercolour, and has become one of a small group of people around the country who "spread the word" in this way. In addition to teaching, he has taken part in Hereford Art Week several years runnning, and successfully took part in the Big Art Show at Shrewsbury in July again this year as a demonstrator. He was awarded Aspire Magazine's certificate as Watercolourist of the Year in early 2014. See the magazine article here. He is also a member of the new Ross Market House Art Collective, "Made in Ross" that opened as an Arts and Crafts venue in the centre of Ross on Wye in May this year. His work may also be seen at Forge Framing and Gallery in the Craft Centre in Hay-on-Wye.
Some previous student feedback...
"A huge thanks for the watercolour course over the weekend. I learned so much and indeed came away greatly irritated with myself for not having come on your basic course ages ago…. As you say, DIY books are not much help. Thanks for [your advice on] paints and materials,too. So, I'm well equipped in mind, materials and techniques for the future!" David, Westbury on Severn
"Such a great explanation of the basics - colour wheel, qualities of the paints, laying washes... many thanks for such an inspirational and fun course - I'm already looking forward to the next one." Fiona, Ledbury
"Many thanks for your patient and very helpful tutoring… The trees in my wood are looking beautiful, and thanks to you I have an idea how to paint it!"    William, Aldershot
"In gratitude for your thoughtful, caring attitude".  May & Margaret, Littlethorpe
"Thanks for being such a great tutor... I learned a great deal and had a very enjoyable time as well". Pat, London E9
"I wanted to tell you how much I enjoyed the course, but I'm sure that you know that we all did". Bunty, Wirral
"Thanks for a brilliant week and all your patience and encouragement. I have had fun and learned so much". Colette, Wolsingham
"Your help, interest and good humour have given us a very happy time with much learned". Daphne, Southport
"Thank you for being so patient and helpful". Averil, Highgate
"Thank you very much for all your care and attention and patient tireless and expert instruction ... I have learned new things ... and have begun to crack perspective". Michael, London W6
"I continued to learn a lot…" William, Ash
"Thank you for a lovely week. I painted some nice boats, like you showed me, on the way home". Annelise, Denmark